Być szczęśliwą kobietą!
Odkryć prawdziwe piękno ukryte na dnie serca!
Żyć pełnią życia!
Czy Twoje serce nie kryje podobnych pragnień…?
Jeśli tak, to spotkanie w Tuchowie jest dla Ciebie!!!
Zapraszam na duchową drogę odkrywania własnej kobiecości razem z Maryją – Najpiękniejszą z Kobiet!
Rekolekcje dla dziewcząt, to weekend przepełniony modlitwą, dobrymi spotkaniami i refleksją.
Czekamy na Ciebie w dniach 9 – 11 października 2020 r. Telefon kontaktowy na plakacie.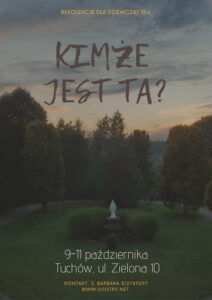 s.M.Barbara Szeliga